Terra: Geografie temporali
For the first time, Galleria de' Foscherari in Bologna presented a solo show by Sophie Ko Chkheidze (b. 1981 in Tbilisi), a Georgian artist who lives and works in Milan.
An exhibition focused on the images' role within our life. Expressive and figurative power enter into dialogue with some foundational moments of history (and pre-history) of art.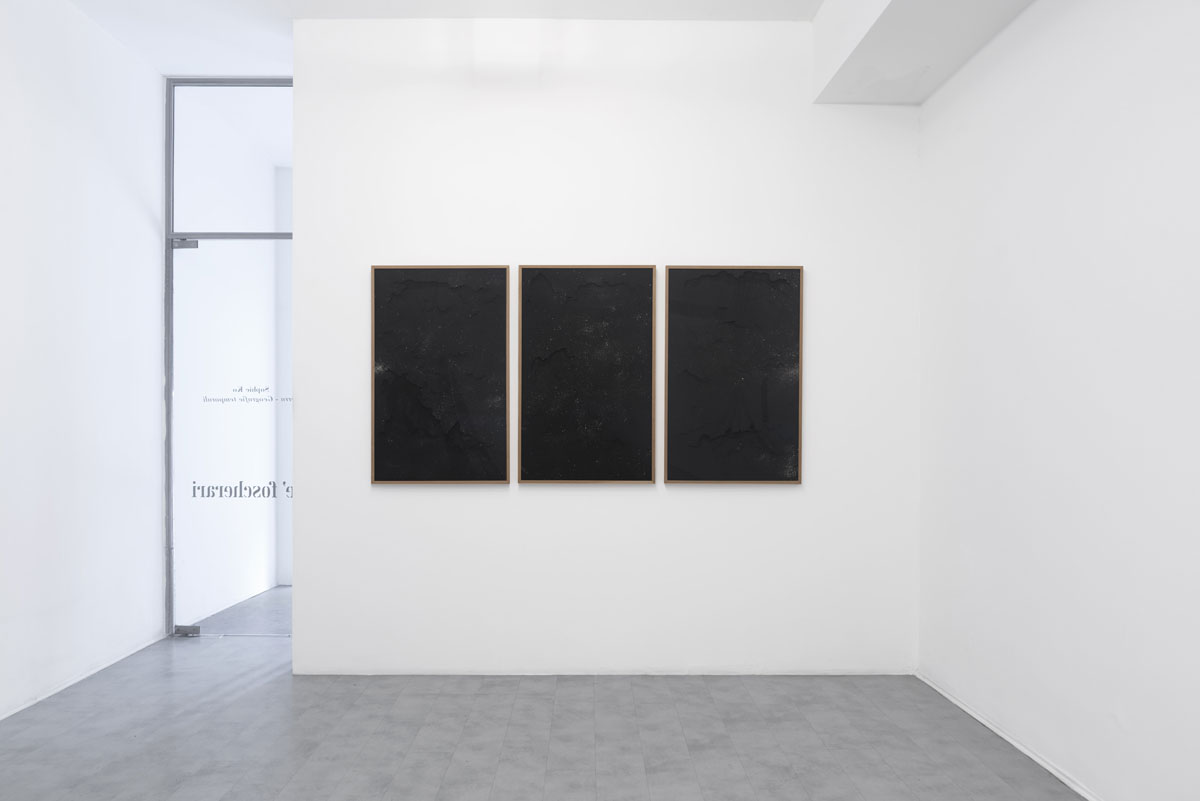 Sophie Ko. Terra, installation view at Galleria de' Foscherari, Bologna. Courtesy Galleria de' Foscherari  
All of the pieces on view (with the exception of Kaspar Hauser) belong to the artist's Temporal Geography series: paintings made with the ashes of burnt images, or with pure pigment, constituting the most intense phase in the artist's poetic reflection on the image. All of Sophie Ko's work revolves around the question of what images mean in our lives, and her Temporal Geographies, with their expressive energy and undiluted figurative power, enter into dialogue with certain fundamental moments in the history (and prehistory) of art.
Terra (Earth) is the title of this exhibition, and the works it presents are an attempt to restore visibility to the earth, to give it new meaning as image. Images have been emptied of meaning because we no longer even see the earth. The unbridled expansion driven by a techno-economic rationale has reached the point that the earth itself has become invisible, valued only as the basis for this process. In the works of Sophie Ko, the earth is once more what it is, one of the four elements of the cosmos, the foundation of life itself.
Visiting the exhibition we are greeted by the Temporal Geography titled L'uomo accende a se stesso una luce nella notte (Man Kindles a Light for Himself in the Darkness), inspired by a fragment from Heraclitus, which invites us to see the radiance of the image (and of our spirit) in the gray-black ash of burnt images. Rising out of ashes, L'uomo accende a se stesso una luce nella notte embodies the relationship between time and image, in which time exerts a destructive pressure on images, yet images also form, gain depth, and are reborn out of the ravaging fury of time. The Temporal Geography lets us see how the image not only endures time, but marks time, channels it into a form, gives meaning and direction to our vision of this earth.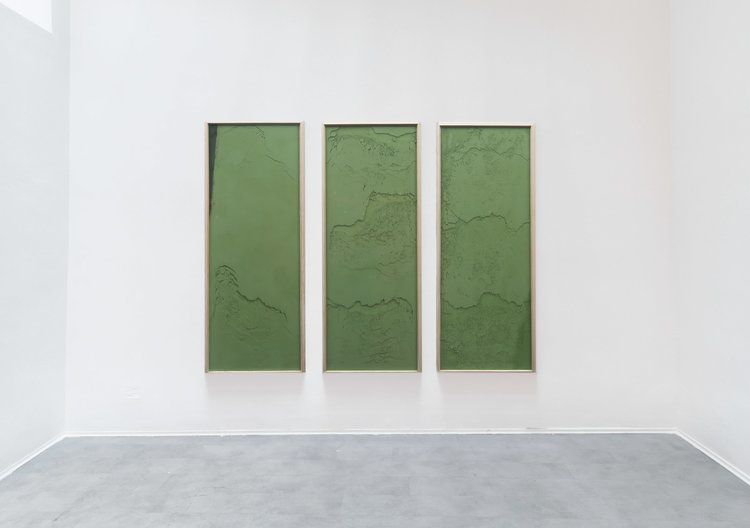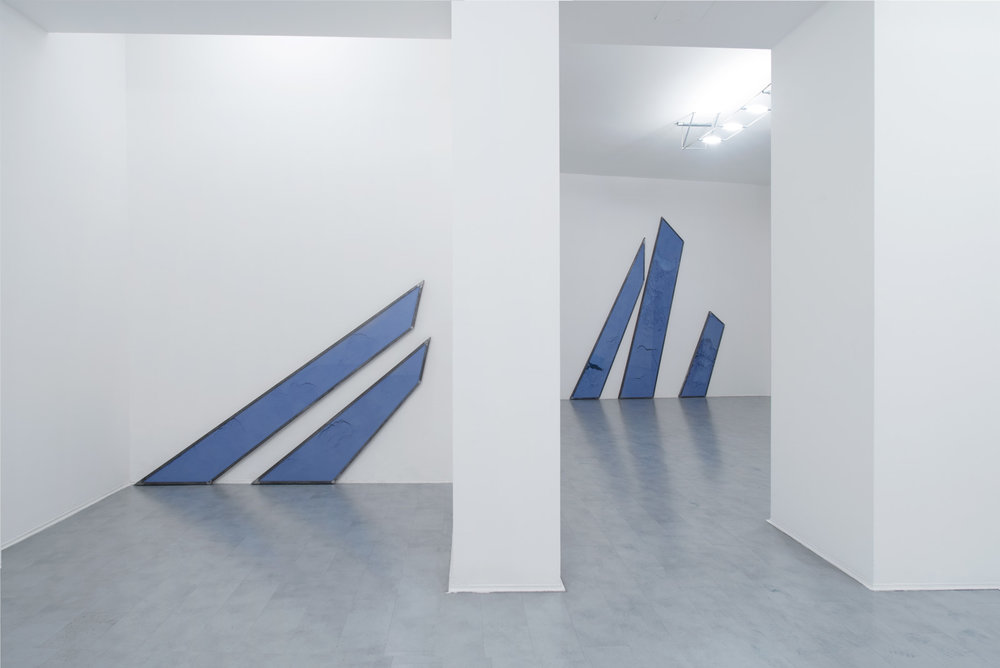 Sophie Ko. Terra, installation view at Galleria de' Foscherari, Bologna. Courtesy Galleria de' Foscherari
The five Temporal Geographies comprising Atlanti (Atlases) make the earth loom before us in the form of giant outcroppings, echoing Caspar David Friedrich's Rocky Reef on the Sea Shore: we have reached the ends of the earth, and only now does the earth become visible again as a destination to be reached, a stark promised land, calling us to dwell there. In the blue distance of the rocks, we measure its remove.
In the room with the thirteen Temporal Geographies of Terra, we are plunged into the depths of the earth: we move forward engulfed in it, like Dürer's knight, unable to look down at the tree roots, because they are now level with our heads. We see the earth once more because we have sunken into it, we are at the bottom of a tomb. The earth now reveals itself to us not through its sublime distance, but because it surrounds us on all sides: "for dust thou art, and unto dust shalt thou return." We are left with the possibility of forging our own path, which begins within the earth, and step by step leads us back into the light, toward the Heavenly Jerusalem, the goal of Dürer's knight.
Recognition of the earth is also the underlying theme of the watercolor Kaspar Hauser, the only work on view in which the figurative dimension of the hand is once again at the heart of the image. The legendary figure of Kaspar Hauser symbolizes human existence: Kaspar's uncertain journey through life is transformed into a man on a small boat, shrouded in the whiteness and silence, moving off in search of his own land. The earth is not yet visible, but that is the direction of the voyage. Kaspar Hauser's figure reflects the elliptical course of human life: for every human being, as Georg Trakl put it, "both evil and good have been prepared."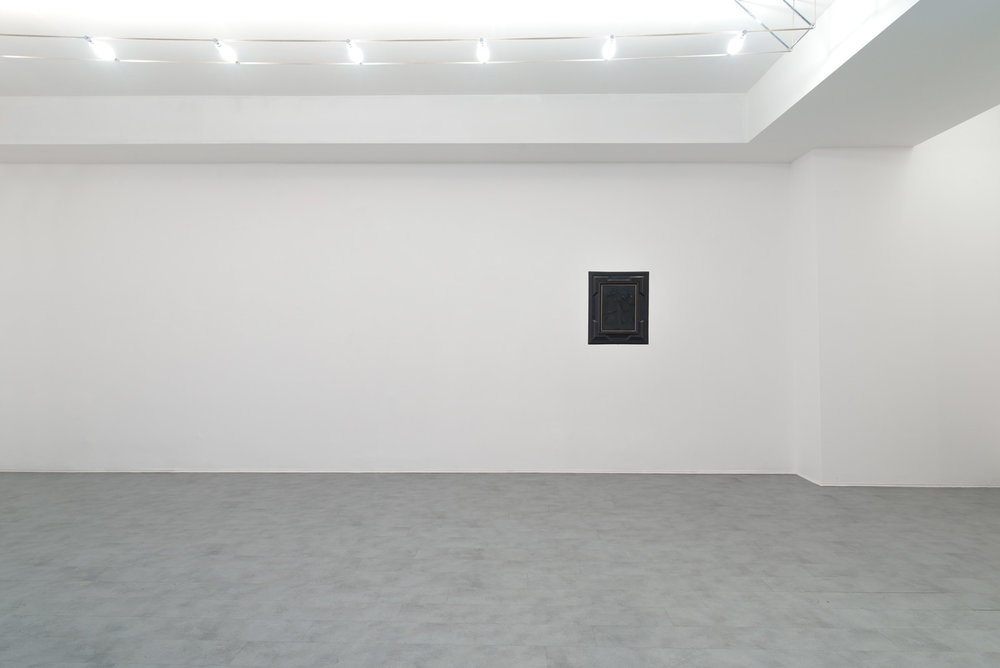 Sophie Ko. Terra, installation view at Galleria de' Foscherari, Bologna. Courtesy Galleria de' Foscherari